Just so you get it:
1)

The Cooper plant just recently got a terrible NRC report about their training.
2)

Effectively a politician on a Nebraska state Power board improperly disclosed

that INPO had put Fort Calhoun training on probation as a campaign tactic.
3)

These guys are less than a hundred miles apart.
Nebraska Public Power District
(

NPPD

, Cooper) and

Omaha Public Power District

,(

OPPD

, Fort Calhoun)
Are we really watching a plant death spiral.
It questions if these Fort Calhoun should have ever been operating. I seen it back in Jan 2014.
Did I call it right from Jan?
June 2014: Fort Calhoun going nuts on Us.
Normally a plant gets 3 or 4 LERs per year, maybe less….
Once you get onto the north side of 2005 till today, it is amazing the escalation of the numbers of LERs. I wonder what has changed?
See, crap quality assurance and crap maintenance. This came out on the same date of the new scram.
Junk! Another plant scram! They fixed the stuff relevant to NRC rules...but neglected components support reliable plant operation
Three years and 200 million dollars...16 days of operation...and they already had two shutdowns.
Were the new sluice gates cheaply purchase at Walmart...
Would that be great, putting on this kind of debt for 10 years...then have to shutdown within a year.
Goes to show you, if the majority of the plant is obsolete and degraded gear...throwing 200 million is a waste of money! They just didn't go in big
enough.
Has INPO also put Cooper training program on probation?
SUBJECT: COOPER NUCLEAR STATION - NRC EXAMINATION REPORT 5000298/2014301
"The examination included the evaluation of five applicants for reactor operator licenses, one
applicant for instant senior reactor operator license, and three applicants for upgrade senior
reactor operator licenses. The license examiners determined that two of the applicants satisfied
the requirements of 10 CFR Part 55 and the appropriate licenses have been issued."
No findings were identified during this examination.

Can you imagine they would tolerate this post Fukushima?

"The licensee already has areas for improvement that include improved critical task development and scenario performance weaknesses on critical tasks, with Condition Report CR-CNS-2014-04683 written to address these issues."

Can you imagine how horrified the operators would be with their plant in this condition? I always thought the procedures and the component used should be at a much higher quality than if a plant was running in a normal state. A plant at normal operation is fault tolerant and has multiple back up systems…while a plant like this is mostly naked and has most of the safety systems stripped away from them. One operator error can screw the whole region. The industry thinks these procedure and component can be of a lesser quality because the chance of being here is slim to none...I think the quality needs to be at a much higher quality because the consequences of a error is so much higher.

You know, they could have caught Cooper on this five years ago? Why did they catch them on this at this inspection?
I am giving you an example where in the USA training might not be up to the quality advertised to prevent a serious accident or mitigate a bad accident.

Or because credibility issues, we do not the know the true condition of all the plants.

COOPER NUCLEAR STATION – NRC INTEGRATED INSPECTION REPORT05000298/2014003

You gotta know it is ten times more worse than the NRC reports it and employees admit it. Think about it, seven out of nine employees failed initial licensing testing.

Did they shorten initial licensing training…almost an instant license...in order to mitigate the crisis with not enough qualitied licenses at Cooper? Is this why the NRC made an example out of Cooper because initial licensing "lite" training?

How could they get this far behind the license eight ball?

Aug 12:

"Interviewees indicated that a lack of Senior Reactor Operators (SROs) has placed the station in a staffing crunch that could ultimately affect shift staffing options. Operators are concerned that if the number of operating crews is reduced, quality of life effects could add stress to the operators. Management is aware of these concerns. There are currently two initial license classes in progress to address this issue.

The inspection team concludes that staffing at Cooper Nuclear Station is adequate. Station management is taking steps to address potential future short comings, i.e. training more senior reactor operators, and planning a four crew rotation contingency. However, the inspection team recommends that increased monitoring of operation."
Isn't it interesting, two completely different corporate nuclear managers, (Entergy, Exelon) Cooper and Fort Calhoun having profound troubles with training…
90 miles from each other and lost deep in the Midwest.
Unbelievable current access to how INPO works…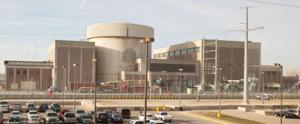 "Fort Calhoun Nuclear Station on probation; 'Why didn't the public know?' OPPD boardcandidate asks"
By Cody Winchester / World-Herald staff writer

The Omaha World-Herald
Training and maintenance programs at Fort Calhoun Nuclear Station have been on accreditation probation since March, a candidate for the Omaha Public Power District board revealed Wednesday.
The National Nuclear Accrediting Board imposed the six-month probation in late March, citing "broad gaps" in training at the nuclear plant, which restarted in December after being shut down for nearly three years.
The accrediting board is an arm of the Institute of Nuclear Power Operations, a trade group that offers technical assistance and training to member utilities.
Candidate Jeff Lux, who is challenging 16-year incumbent Anne McGuire for the District 2 seat in South Omaha, called a press conference Wednesday outside OPPD's headquarters to criticize the utility for not disclosing the problems.
"Why didn't the public know about this?" Lux said.
Fort Calhoun Station sits on the banks of the Missouri River about 15 miles north of Omaha. The plant was taken offline in April 2011 for a scheduled refueling, but then flooding, a fire and the discovery of numerous safety violations led the U.S. Nuclear Regulatory Commission to place the plant under special oversight.
The trade group certifies training programs at nuclear plants every four years; Fort Calhoun's accreditation review came shortly after restart.
OPPD spokesman Jeff Hanson said the nuclear power institute needed more time to review new processes as the plant transitions to new management. In 2012, the district hired an outside firm, Exelon, to run the plant.
The accrediting board will discuss lifting the probation when it convenes Thursday in Atlanta. OPPD is optimistic, Hanson said.
"All indications are that we will receive positive news," he said.
If the board votes against reaccreditation, employees at the plant no longer would be allowed to get training.
The probation was a "critical issue" at Fort Calhoun that prompted weekly conference calls with accrediting managers, who later visited the plant on several inspection visits, according to internal OPPD newsletters.
"Without an accredited program, (Fort Calhoun) can't properly train and qualify personnel to operate and maintain the station," assistant plant manager Tim Uehling wrote in a July memo to employees.
Although the OPPD board was kept in the loop, the probation never was made public — another example of the district keeping ratepayers in the dark, Lux said.
The news comes after OPPD went to court, unsuccessfully, to fight the disclosure of seven employee severance agreements worth nearly $950,000.
Many of the issues identified in an analysis of training problems, including weak oversight by management, also were identified in a longer technical report that delved into why the plant was shut down in the first place, Lux said. The district "shelved" that report, too, said Lux, a felony prosecutor in the Douglas County Attorney's Office.
"Two years later — this came out in 2012 — we're still seeing the same problems," he said.